Gosen R4X 110 Badminton String Review
A little while ago I received some products from GOSEN for review. One of the items in the goodie box is a set of R4X 110 strings.
Gosen as a badminton manufacturer almost need no introduction. They are base in Japan and only second to the big Y in terms of reputation. Gosen in their years have had a fair amount of innovations, some took off and some didn't. One of the many strength Gosen has is the quality of their strings. The R4X 110 is among a few newer offering from Gosen and we were curious what kind of performance they bring compare to our favorites.
Upon unpacking, the Gosen R4X 110 and other Gosen packaging was impressive. Perhaps it was a Japan local model, the string came in a nice paper box on the outside, and internally the string is also sealed in a plastic bag.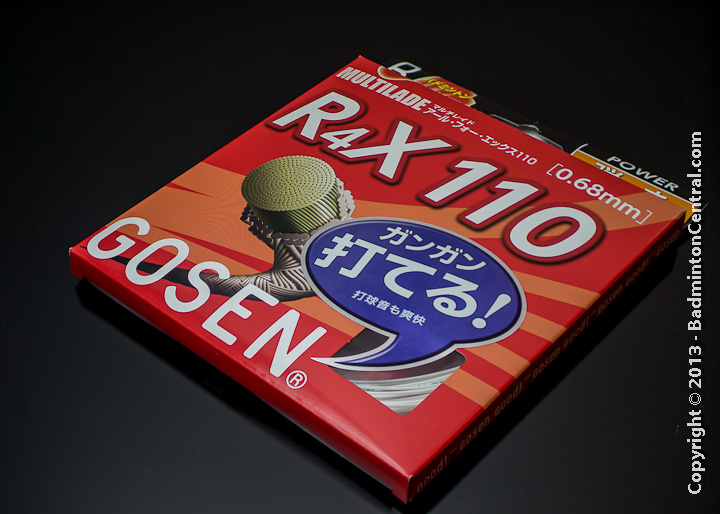 The information about this string is hard to find in Gosen's websites. As they were in Japanese and English sites are either not well advertised or non-existent.
From the pricing that I have gathered from various online websites, the string is lined up as one of the top models. The string package shows that it is a 0.68mm string that is for Power. The cover shows a diagram of the internals of the string, which is fine multi-filament strings with braided shell and coating.
Upon examining after taking out the string from the package, it shows that the string has a medium stiff body and a smooth coating.
Stringing and weaving the R4X 110 was not difficult. The stiffness reminds me of BG80 with a much smoother and finer texture. Being thicker and less stiff means that it is still OK to thread and pull it through shared holes, but not with the same ease as the Gosen R4X Momone sibling.
Strung at my now standard tension of 22.5/25.5lbs the frequency came out at 1050Hz. Which reflects the thinness and stiffness of the string. A ping test shows that the string is a lively one.
So far so good. But all of the above is pointless without great performance in court.
Regular readers of Badminton Central probably have understood how enthusiasts among us like to rate our badminton equipment, esp for strings and rackets. The major factor that we look for are:
– Repulsion / Resilience / Power
– Feel (soft/hard) / (crisp/dull)
– Longevity
Firstly, the feel. Being a thin 0.68mm, the overall absolute stiffness i'd say is 8.5/10. Relatively stiff for a medium thickness string, approaching but not surpassing other similar string in its class like the Victor VS-850 or Yonex BG80.
In term of crispness, it is very good, but not to the level of its sibling the R4X Momone. The impact is quite crisp it is more dampened in comparison. The resulting control on delicate push and net shots is still very good. I'd give it a rating of 9/10.
As for power, this is where I believe the Gosen R4X 110 really shines. The R4X 110 has a super good lively and resilience feeling to it. On a fast or power hit, the shuttle sits on the string momentary and bounces off with a medium tone boom. As a results, smashing and fast attacking drive with this string is top notch. Even medium hard shots like a heavy clear was executed with speed and cripness.
Unfortunately I given the limited time i have with the R4X 110 I don't have much data in terms of the longevity of the string. For that I will defer to the rated 8/10 given by the manufacturer. For the few full sessions including games and training that I have had with the R4X 110, i see no sign of wear at all, and the crisp and power feeling didn't show any loss within a few hours of heavy play and drills.
I feel that the R4X 110 is something special. A performance string whose balance between repulsion, stiffness and crisp feeling resulting in a synergy in badminton string that I have never felt before. It is well suitable for players who are looking for some extra kick and not sacrificing on the crisp and feel of the string. Frankly I might have found my next weapon.