Yonex-Sunrise HONG KONG Open SS 2014 : QUARTERFINALS (21st November 2014)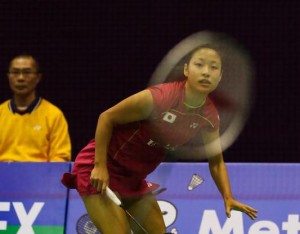 Photo: Jyeung
Author: CLELY
Reference: http://www.badmintoncentral.com/forums/showthread.php/149002-Yonex-Sunrise-HONG-KONG-Open-SS-2014-QUARTERFINALS-%2821st-November-2014%29
Venue : Hong Kong Coliseum, Kowloon-HKG SAR, China
Total prize money : US$350,000
Tournament information : http://www.hkbadmintonassn.org.hk/en…hong-kong-open
HKG time : http://www.worldtimezone.com/time/wt…ma=Find%20Time
Order of Play (01.00pm local time, 2 courts) => https://www.tournamentsoftware.com/s…0-455FB7F5DA5B
Today's quarterfinal round has two sessions, afternoon (01.00pm) and evening (06.30pm); fierce clashes are on the way to hunt for the final four tickets.
MS, top-two seeds Chen Long and Jorgensen were stretched into rubber games yesterday before overcoming Rajiv Ouseph and Lee DK respectively. Local hope Wei Nan against high in confidence Srikanth will be the match of interest beside Jorgensen v Wang ZM.
WS: twin blows for this category yesterday as both last year's winner and runner-up Wang YH and Wang SX failed to go further in this tournament. Japanese players dominate the last eight with 3 of 8 slots and has guaranteed 1 semifinal berth through their promising stars Okuhara and Yamaguchi who matchup against each other. Reigning world champion Carolina Marin will face the stocky, giant killer from Malaysia Tee Jing Yi. Saina Nehwal against Tai TY should be close contest.
MD: disaster for KOR as their two top now not so dependable pairs have been ousted before the quarter finals. Barring any upsets, the Indonesian combination of Ahsan/Setiawan are strong favourites to cruise into Sunday's final. Or will we see another upset giving different finalists? There are 7 different member associations represented at the QF stage here. A change from the usual powerhouse pairs for badminton.
WD: it seems top-half of the draw will be JPN owned; a hard test for Asian Games gold medalist Maheswari/Polli who will challenge the solid defense Kakiiwa/Maeda. Meanwhile three CHN pairs occupy bottom-half of draw with and thus 1 semifinal ticket for China has been secured.
XD: defending champions the Adcocks have a tricky opponent today, Lee YD/Lee SH. The other three matches will involve four CHN combinations with 1 tie being an all CHN affair. Lu K/Huang YQ v Widianto/Dili will battle it out in the matchup of the second tier pairings from their respective countries.
LIVE TV (court 1, 01.00pm) matches :
– Chris Adcock/Gabrielle Adcock (ENG) v Lee Yong Dae/Lee So Hee (KOR)
– Vladimir Ivanov/Ivan Sozonov (RUS) v Mads Conrad Petersen/Mads Pieler Kolding (DEN)
– Chen Long (CHN) v Takuma Ueda (JPN)
– Misaki Matsutomo/Ayaka Takahashi (JPN) v Eefje Muskens/Selena Piek (NED)
– Carolina Marin (ESP) v Tee Jing Yi (MAS)