Yonex-Sunrise HONG KONG Open SS 2014 : SEMIFINALS (22nd November 2014)
Yonex-Sunrise HONG KONG Open SS 2014 : SEMIFINALS (22nd November 2014)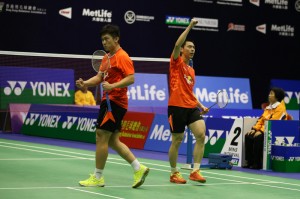 Author: CLELY
Reference: http://www.badmintoncentral.com/forums/showthread.php/149046-Yonex-Sunrise-HONG-KONG-Open-SS-2014-SEMIFINALS-%2822nd-November-2014%29
Venue : Hong Kong Coliseum, Kowloon-HKG SAR, China
Total prize money : US$350,000
Tournament information : http://www.hkbadmintonassn.org.hk/en…hong-kong-open
HKG time : http://www.worldtimezone.com/time/wt…ma=Find%20Time
Order of Play (01.00pm & 06.30pm local time, 1 court) => http://www.tournamentsoftware.com/sp…A5B&d=20141122
The semifinal day will be splitted by two sessions, afternoon and evening. A step closer to final curtain and we'll looking forward for some top-notch action tomorrow.
MS, two mouth-watering encounters at stake. Chen Long v Srikanth, the on-fire Indian has been boosted by his sensational triumph at last week CHN Open SSP and let's see whether he can beat two top Chinese MS in two weeks. Son Wan Ho v Jorgensen, this is going to be a gruelling match between the resilient Korean and explosive Danish player.
WS, the surprise package Okuhara still continues good run and will oppose recent WC Carolina Marin. The other half, CHN last hopeful Liu Xin gets tough foe, Tai Tzu Ying who disposed one of tournament contender Saina Nehwal yesterday.
MD, strong fave Ahsan/Setiawan has bright prospect to redeem their first round exit last week to perform well in HKG. Japanese #2 Kamura/Sonoda who played excellently here will be challenged by former AE winner, Liu XL/Qiu ZH
WD, another Japanese pair for INA WD, they must have strong stamina to overcome world #1 Matsutomo/Takahashi whom they beat at Incheon AG Final. Will they succeed? One of CHN WD will wait them in last round.
XD, defending champion is surrounded by three Chinese pairs. It's hard task for the English couple to topple ZZ, they did it last year at exactly same stage here, what a coincidence!
LIVE TV matches (01.00pm) :
– Zhang Nan/Zhao Yunlei (CHN) v Chris Adcock/Gabrielle Adcock (ENG)
– Misaki Matsutomo/Ayaka Takahashi (JPN) v Nitya Krishinda Maheswari/Greysia Polii (INA)
– Nozomi Okuhara (JPN) v Carolina Marin (ESP)
– Chen Long (CHN) v K. Srikanth (IND)
– Mads Conrad Petersen/Mads Pieler Kolding (DEN) v Mohammad Ahsan/Hendra Setiawan (INA)