2015 OUE SINGAPORE Open Super Series Semi-finals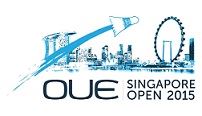 11th April: Semifinals discussion
Author: CLELY
Venue : Singapore Indoor Stadium (SIS), Singapore City-SIN
Total prize-money : US$300,000
Tournament website : http://www.singaporebadmintonopen.com.sg/
Tournament time-table : http://www.singaporebadmintonopen.co…schedules.html
Ticket information : http://www.singaporebadmintonopen.com.sg/ticketing.html
Singapore time : http://www.worldtimezone.com/time/wt…ma=Find%20Time
SEMIFINALS Order of Play (02.00pm local time, 2 courts) : http://www.tournamentsoftware.com/sp…7DC&d=20150411
China dominates semifinal round with 2 final tickets have been guaranteed through WS and XD followed by JPN and INA who have four representatives each at final four.
Hu Yun continues his gallant run and will be up against Indian Parupalli Kashyap today; it may be a close match based on their head to head. The two players are really motivated to have an inspiring outcome in Superseries tournament and this is their chance to take. Simon Santoso should have a lot of confidence in the sensational wipe out of all the strong favourites in the second round to repeat his magic last year. The young and dangerous Kento Momota will deliver stiff challenge for him today.
After a relatively easy path at previous rounds, Tai Tzu Ying will have a hard test today against defending champion Wang Yihan. It's a chance for the Taiwanese young star to overcome Chinese #3 as her opponent has shown a lacklustre performance lately. Sun Yu and Wang Shixian will face each other at bottom half of draw to earn a ticket to the final.
The big guns surprising defeat yesterday was in Men's Doubles with Lee YD/Yoo YS losing to Indonesian back up pair Pratama/Suwardi. Pratama and Suwardi will meet the experiences Japanese pair of Endo/Hayakawa. Indonesia's best hope, Ahsan/Setiawan, will have a chance to take revenge over their All England loss to Fu HF/Zhang N. It will be a high quality match with Fu Haifeng hard smashes against Hendra Setiawan's deft touches in the front court area.
It will be a China-Japan clash for Ladies Doubles as the top two seeds Matsutomo/Takahashi (seeded 1) and Kakiiwa/Maeda (seeded 2) will be challenged by former world #1 Wang XL/Yu Y and upcoming pair Ou DN/Yu XH. There is a high chance to see an all Chinese final tomorrow unless one of Japanese pairs perform extraordinary well this afternoon.
Ahmad/Natsir are surrounded by three Chinese pairs in the semifinals. Will they survive today? In last three meetings the Indonesian #1 lost to their nemesis, the mighty Zhang/Zhao. They need to find a better strategy on how to block the path of Zhang and Zhao. Xu/Ma against Lu K/Huang YQ represents a battle between the different generations; the senior pair has slight advantage to win.
LIVE TV (court 1, 02.00pm) matches :
1) Misaki Matsutomo/Ayaka Takahashi (JPN) v Wang Xiaoli/Yu Yang (CHN)
2) Hu Yun (HKG) v Parupalli Kashyap (IND)
3) Tai Tzu Ying (TPE) v Wang Yihan (CHN)
4) Angga Pratama/Ricky Karanda Suwardi (INA) v Hiroyuki Endo/Kenichi Hayakawa (JPN)
5) Zhang Nan/Zhao Yunlei (CHN) v Tontowi Ahmad/Liliyana Natsir (INA)